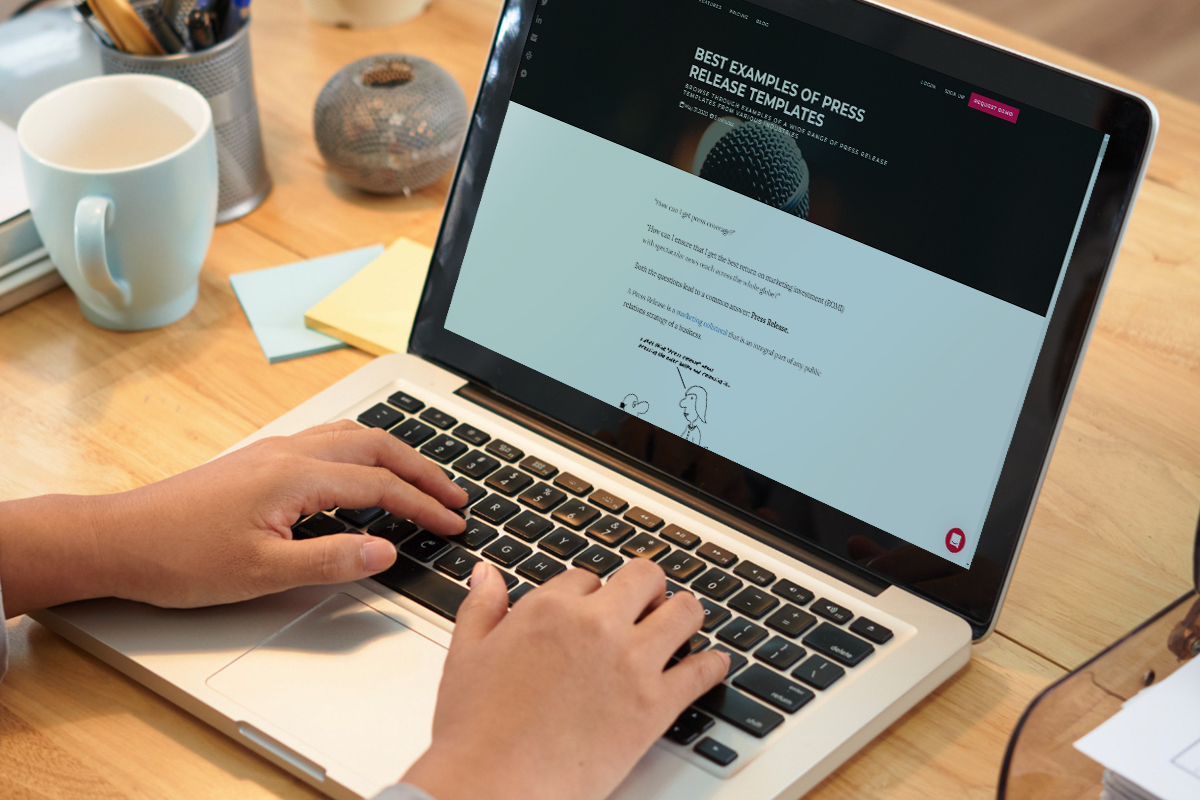 Like most content online, a press release is like a sandwich; a catchy introduction is at the top, the meat is in the middle, and the conclusion is at the end. Still, a certain cadence and format are expected from press releases, and you want journalists to be excited by your news, not raise their eyebrows at a poorly-written press release. Examples can be very helpful. 
There are plenty of guides on how to write a press release, from the headline to the editor's notes, but all the theory in the world is only helpful until you're staring at a blank screen and trying to figure out what to write.
So, why not look at what's already out there? Look at what other companies, large and small, are producing. See what works and what doesn't. Take cues from the people who already do this professionally, and see what language, formatting, structure, and techniques you can include in your press releases.
To make it easier, here are some of the best press releases we can find. 
P.S. We have thousands of press release examples that are hot off the press! Check out our Press Release page to check them out for yourself.
This compelling press release is narrative in structure. It capitalizes on a particular holiday – Valentine's Day – and a specific set of experiences shared by many potential customers.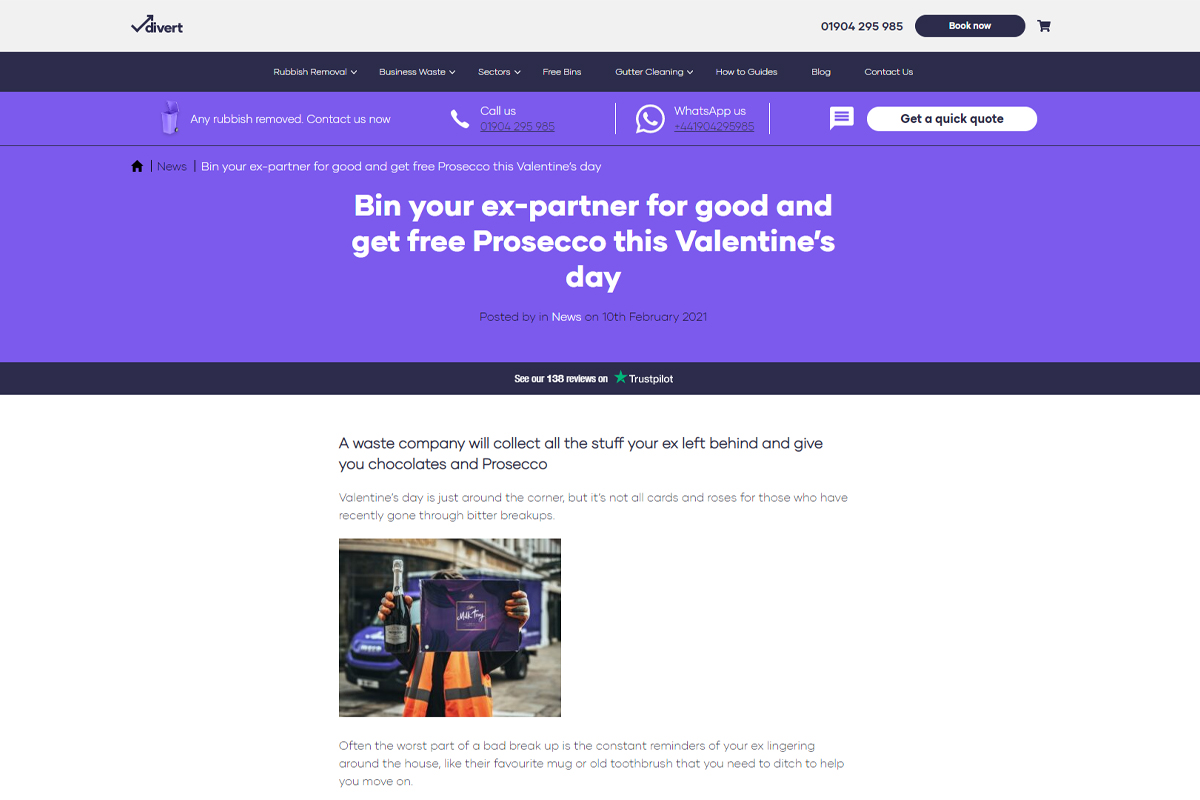 They humorously discuss their service while showcasing what they can do and alleviating several common concerns. Laced with quotes from the company spokesman, this press release is already a classic.
One of the most common press releases many businesses write is an announcement of a new hire, usually in a regional or overall power position, like a regional director or someone for the executive board.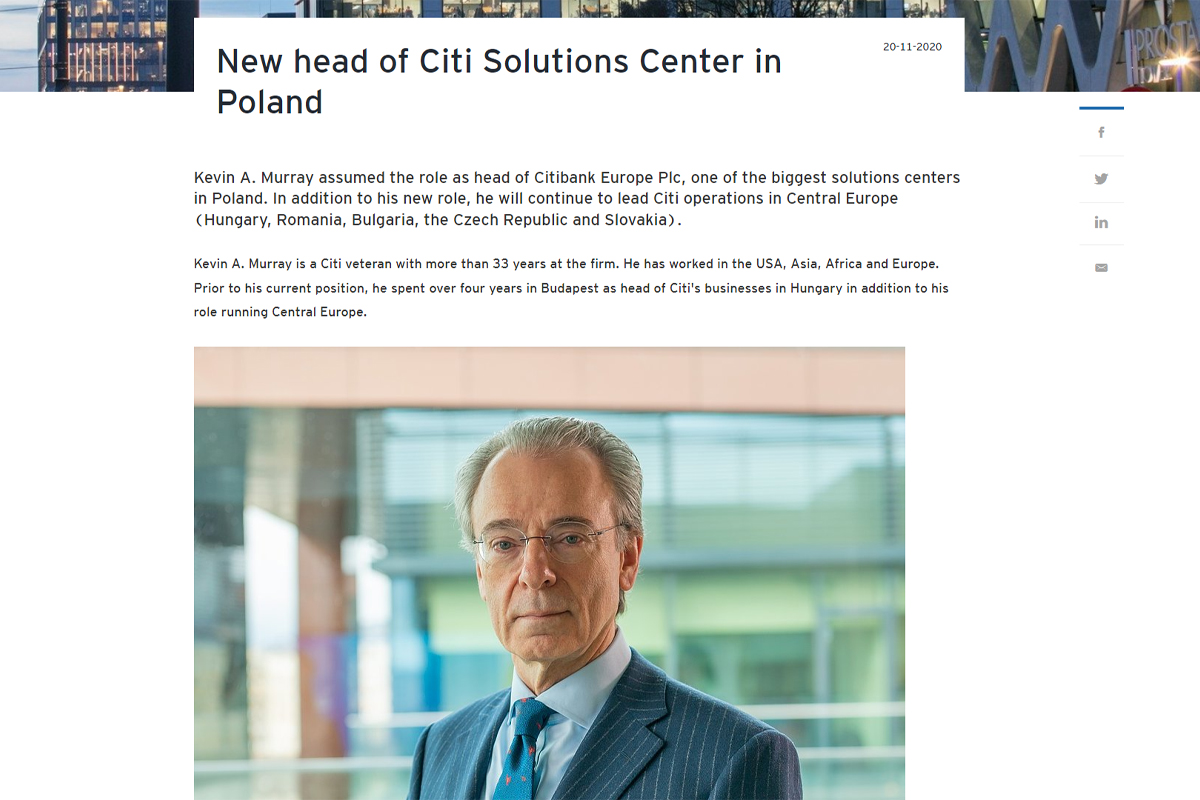 It's bland information, but it's useful for the people most interested in it. This press release shows an excellent way to convey the information. It's fast, gets to the point quickly, and discusses who the individual is, their role, and why they chose them. No more, no less; a perfect use of space.
Another common type of press release is a product announcement. Apple may have its controversies, but they are nothing if not an expert at announcing new products. This press release for an app called Time to Walk is a marvelous example of how to advertise a new product. It gets straight to the point, discussing what the product does and what need it fills, then dives immediately into quotes explaining why it's worthwhile.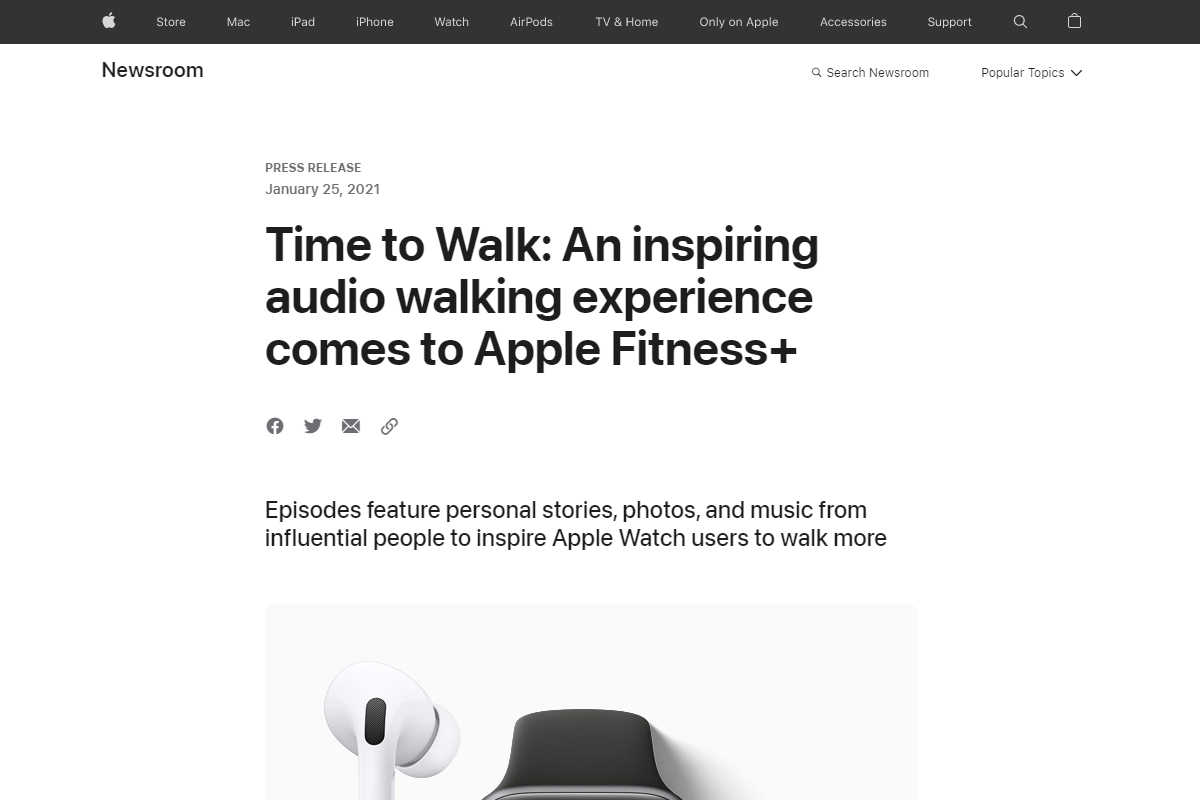 The only potential drawback is the overall length, but this is Apple we're talking about; journalists will pay attention.
Happsy is just one of many businesses producing direct-to-consumer mattresses, so how do they announce themselves in a way that stands out? Check out this press release. It starts strong, explaining that they're entirely organic and certified to the strictest standards. It then goes into the awards they've won, quotes about it, and details on the product. There's plenty of information for any journalist to write about, including details of their offer and more information about the company itself.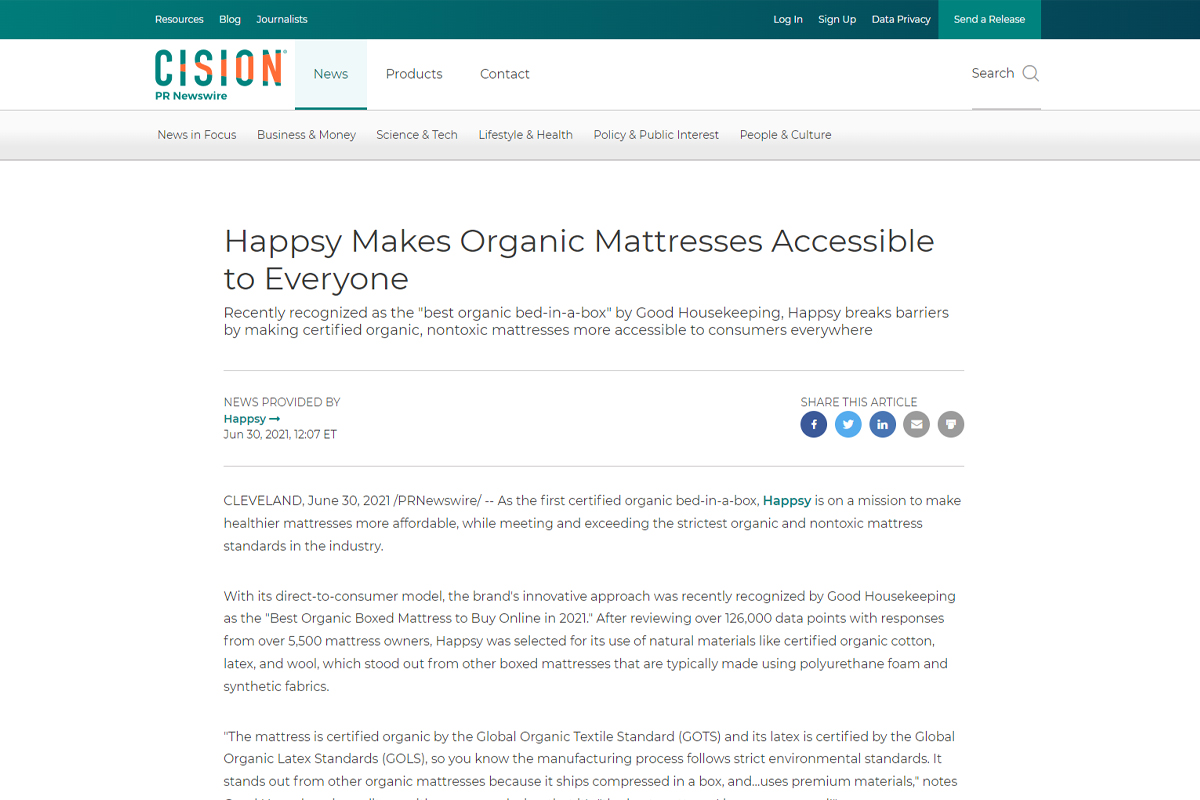 The only potential gripe we have is the cursory "source" and "related links" sections at the bottom, which add nothing new.
While neither a well-known brand nor a recent example, this press release from 2011 is an excellent example of how a company can leverage major cultural events to benefit even small brands. Back in 2011 or so, there was a media frenzy over the "end of the world" happening in 2012. 
This tongue-in-cheek press release delivers a humorous example of capitalizing on the trend by saying, "if the world is ending, why not go out with a bang, commercially?"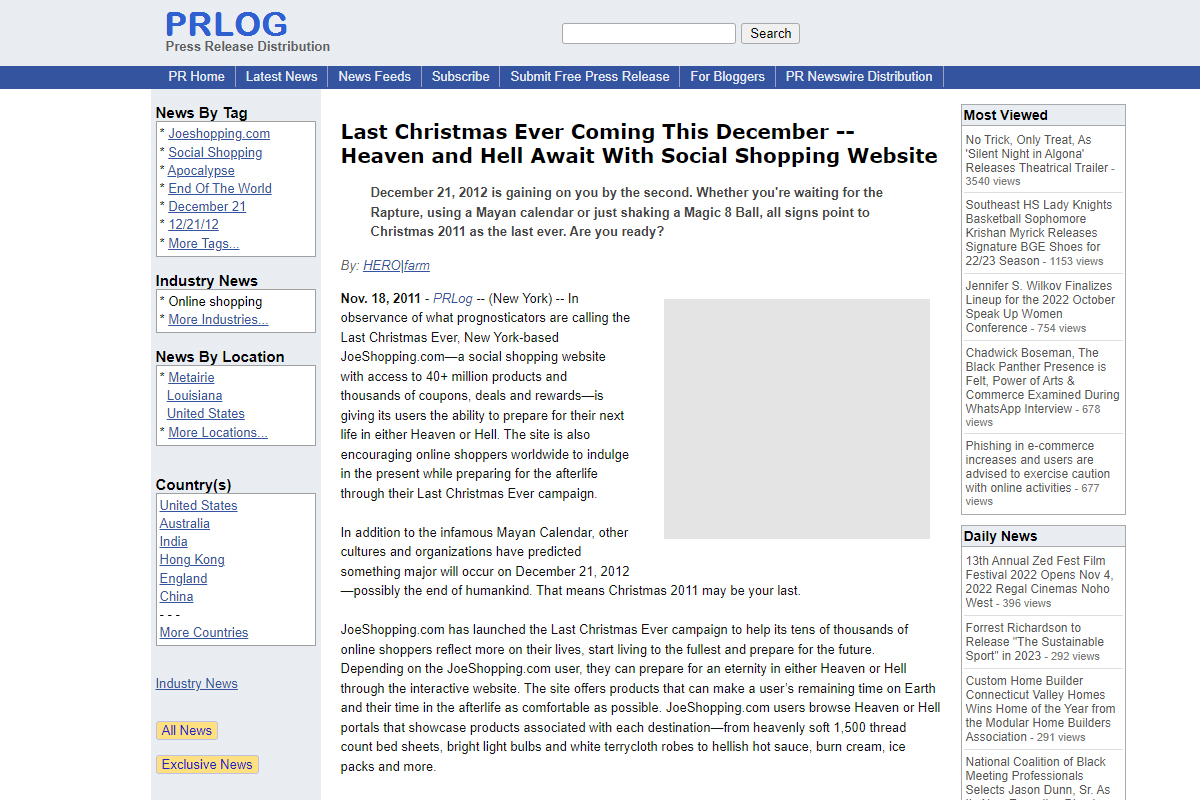 Sadly, even this excellent example of a press release didn't keep the company around past 2018.
Heinz is often not glamorous as a condiment company, but this press release (and the associated contest) strives to make it so. The competition is interesting – asking people to create highly photogenic burgers (using their condiments, of course) – but the promotion is exceptional.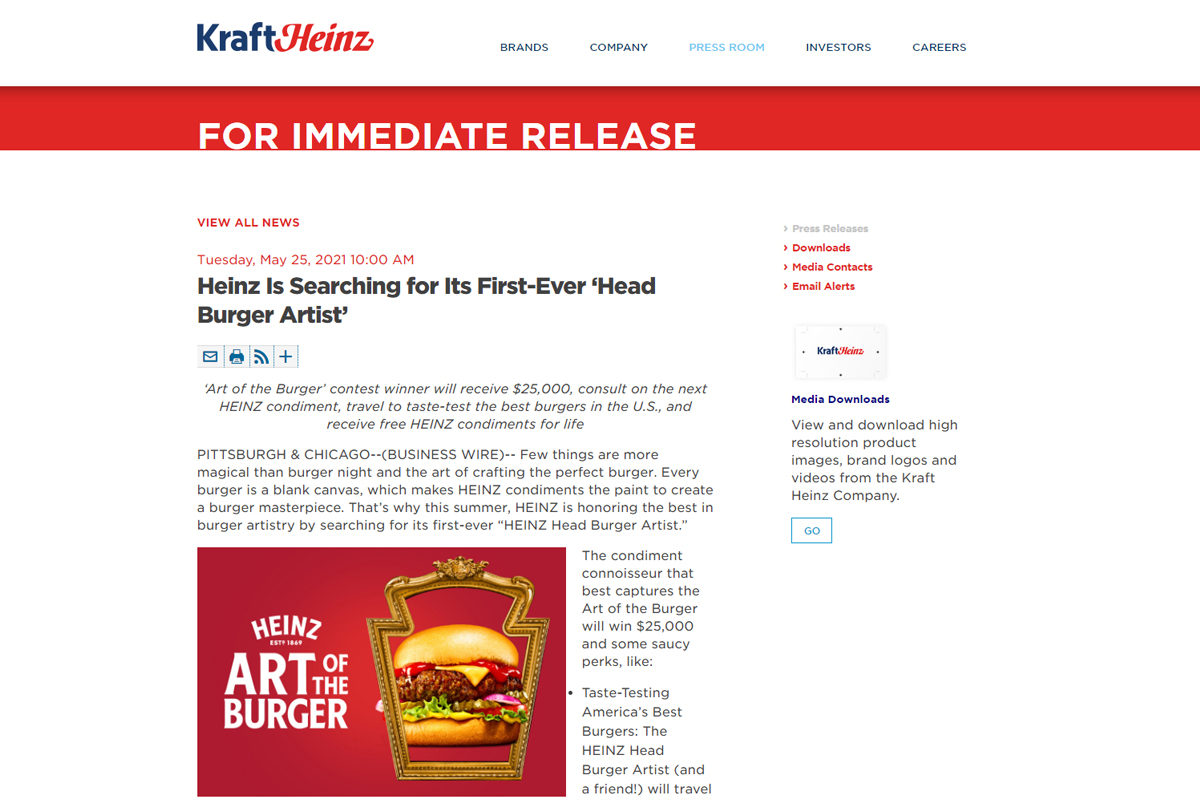 It starts strong with the premise, carries through to the contest and what entrants can win, and wraps up with the competition's salient legal and technical details.
This example is a widely-shared press release that conveys every bit of information in a narrative-driven fashion, making it perfect for publishing more or less as-is. The addition of quotes from the family of the winner also saves journalists time hunting them down and asking themselves.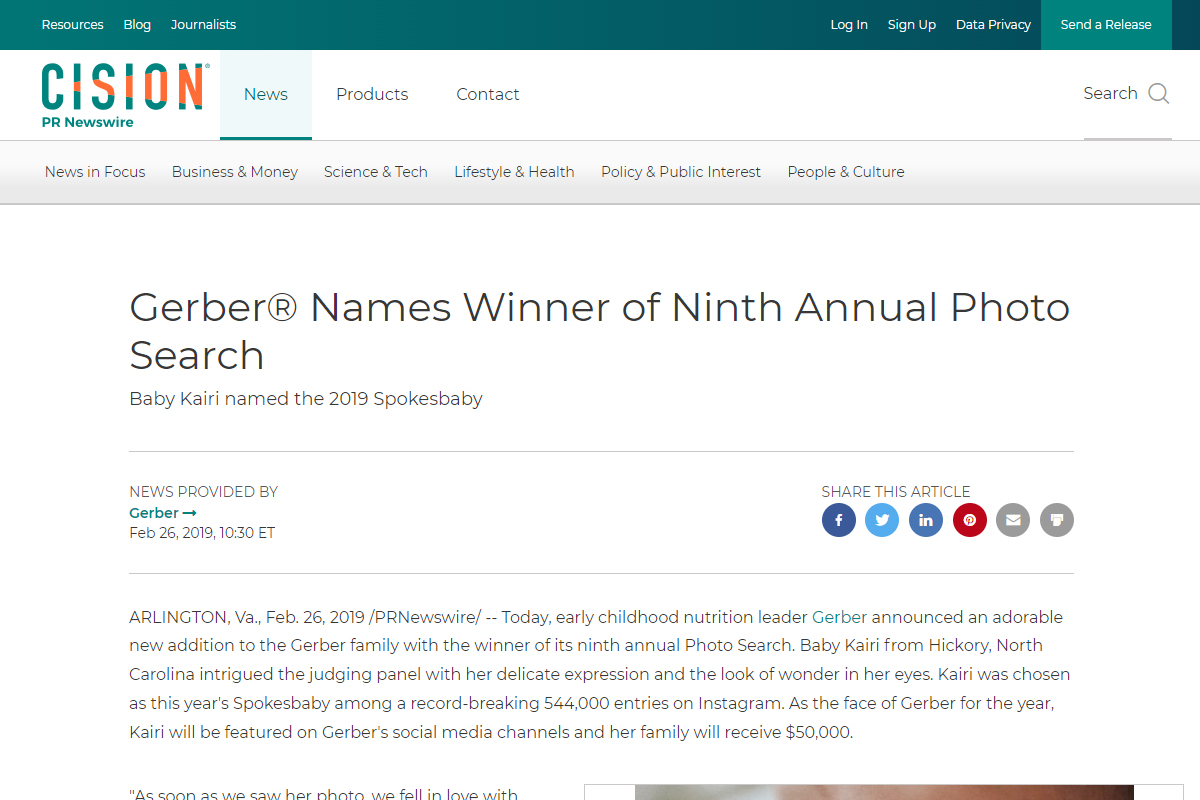 The additional links for more information do wonders for the utility of the press release. Gerber did an excellent job of bringing the emotional weight of their choice and how it represents the facets of their brand they want it to convey.
This now-famous press release set the trend with ModCloth eschewing the usual commercial frenzy of black Friday. Over the last several years, more and more companies have pushed to get their sales started earlier and earlier, and even open on Thanksgiving Day, with sales stretching weeks beforehand.
ModCloth decided enough was enough and not to run any black Friday sales; they shut down their site for the day to encourage everyone to spend time with their families and take the day off. Sales can come later, after all.
This example is an unusual press release on this list because it's not a big brand; it's an individual author promoting their book. The book, written and released during the Covid pandemic, encourages staying healthy, active, and motivated in a time when millions of people were struggling with isolation.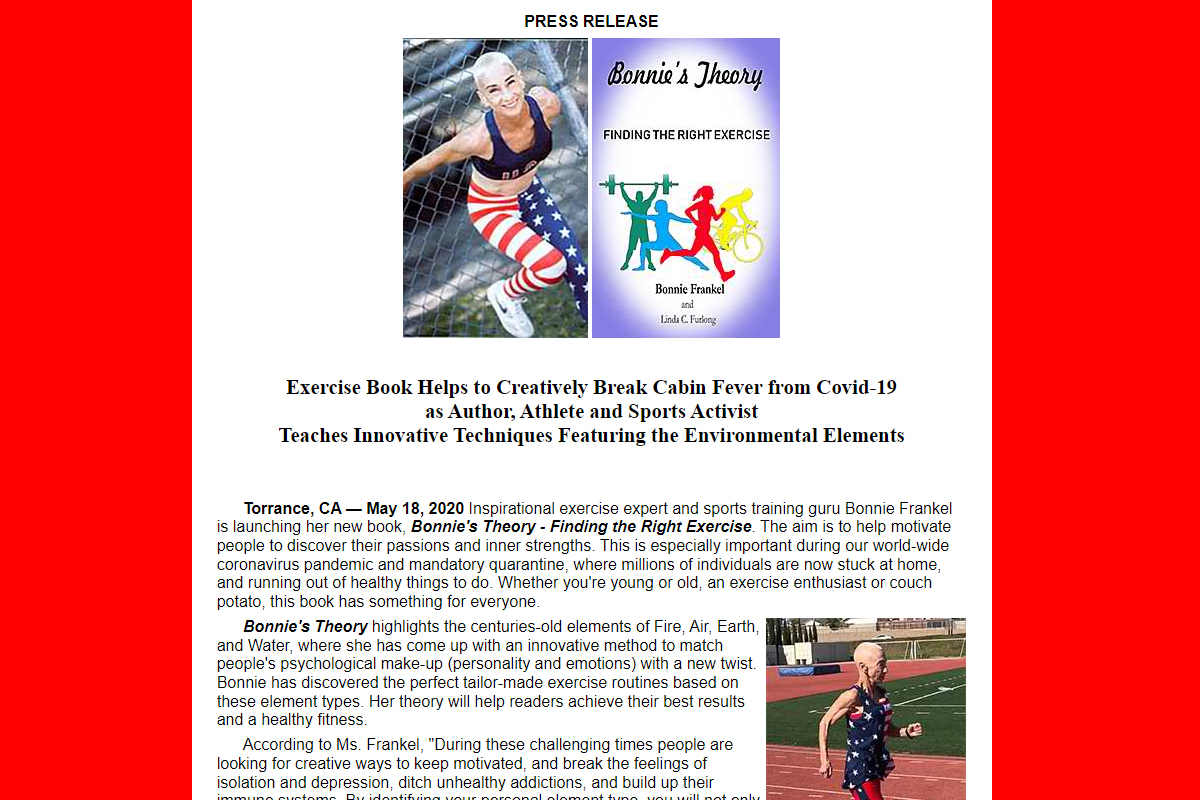 The press release is pretty standard in form, but it shows that when your product takes the stage, it does everything it needs to do.
Compare this press release to the previous one. Both press releases are about books. They're both using the same format, from the book's intro to the quotes in the middle to the links and further info at the bottom.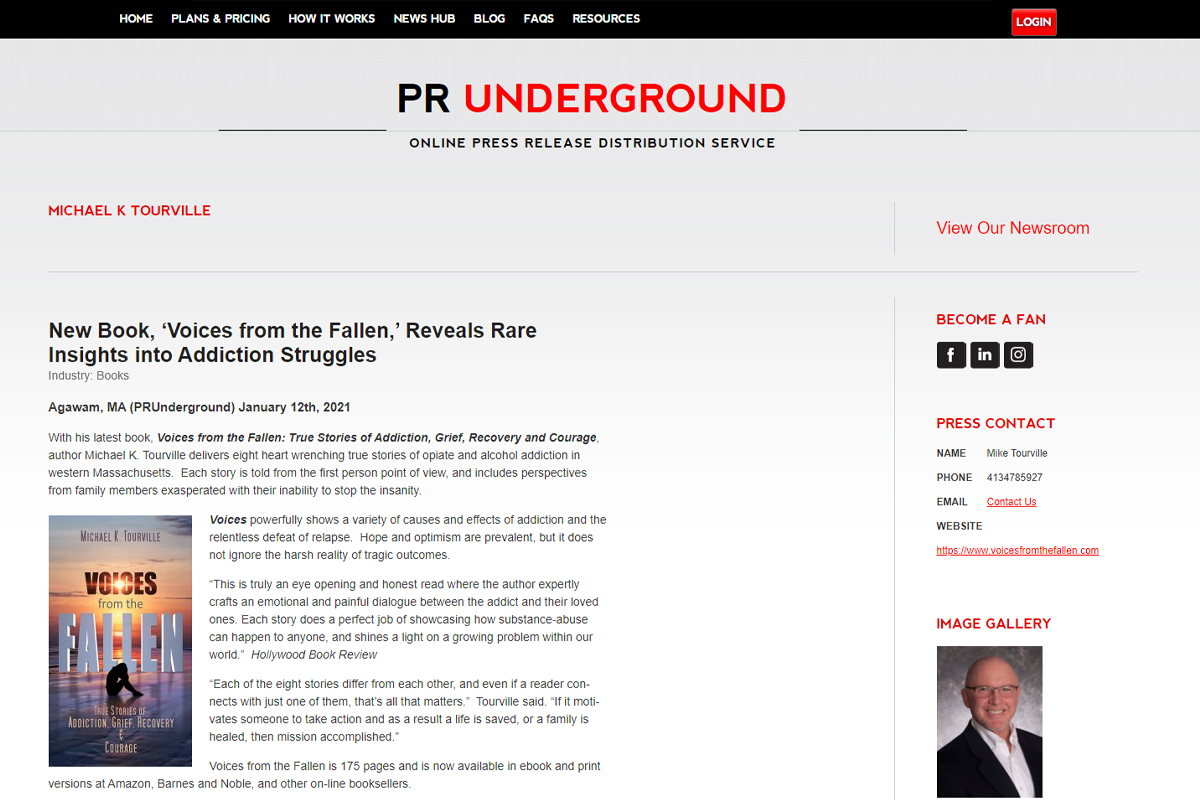 This release is another example of how a press release doesn't need to be elaborate or unusual to be a success. You need a tried-and-true format, and you're off to the races.
This example is a press release from multiple organizations working together to produce a study using their pooled data and resources. The study itself is the core of the press release, of course, but what's interesting is that only one of them gets top billing on the release itself.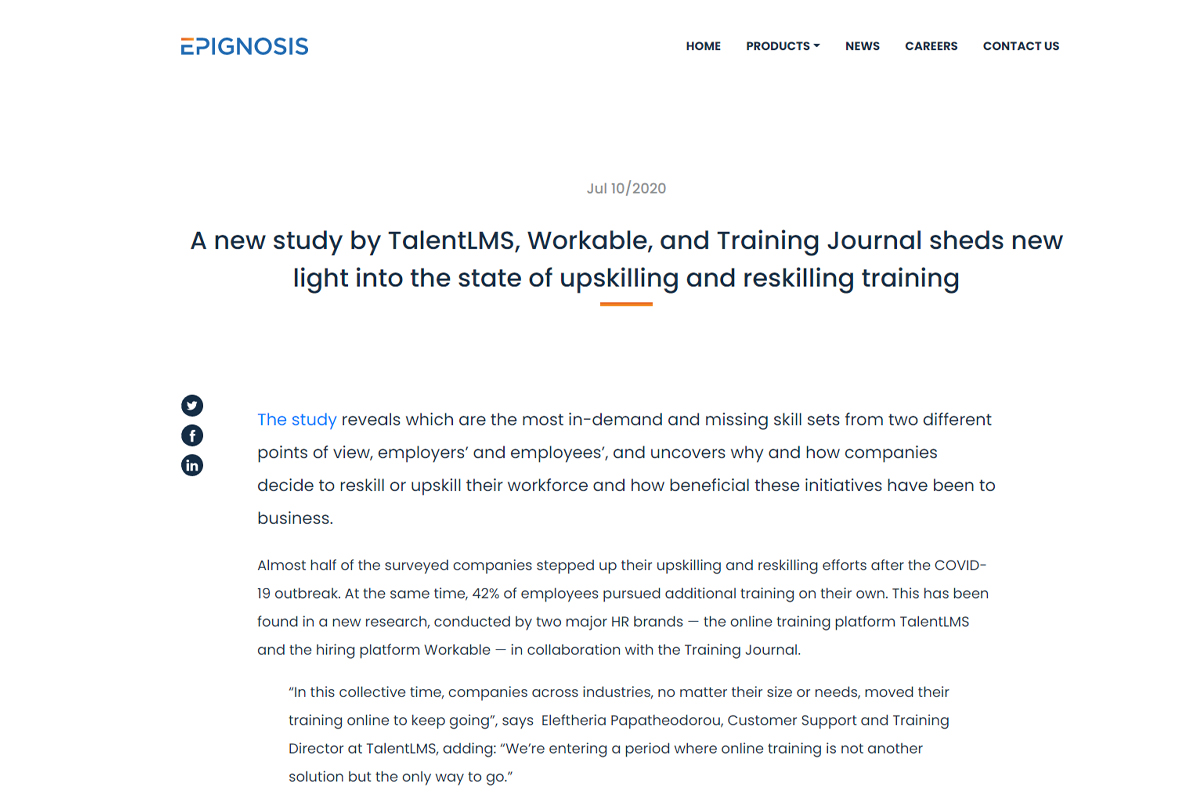 It just goes to show that you don't need to cram every single possible detail into your press releases; all you need is enough information to work as a basis for your journalists to report on it, and in this case, the study is the real meat.
Hobby Lobby is a controversial company for various reasons, and they've been at the center of many discussions, from employee treatment to equal opportunity to artifact smuggling. This press release is an exciting snapshot of one of many ways they've tried to maintain a better image.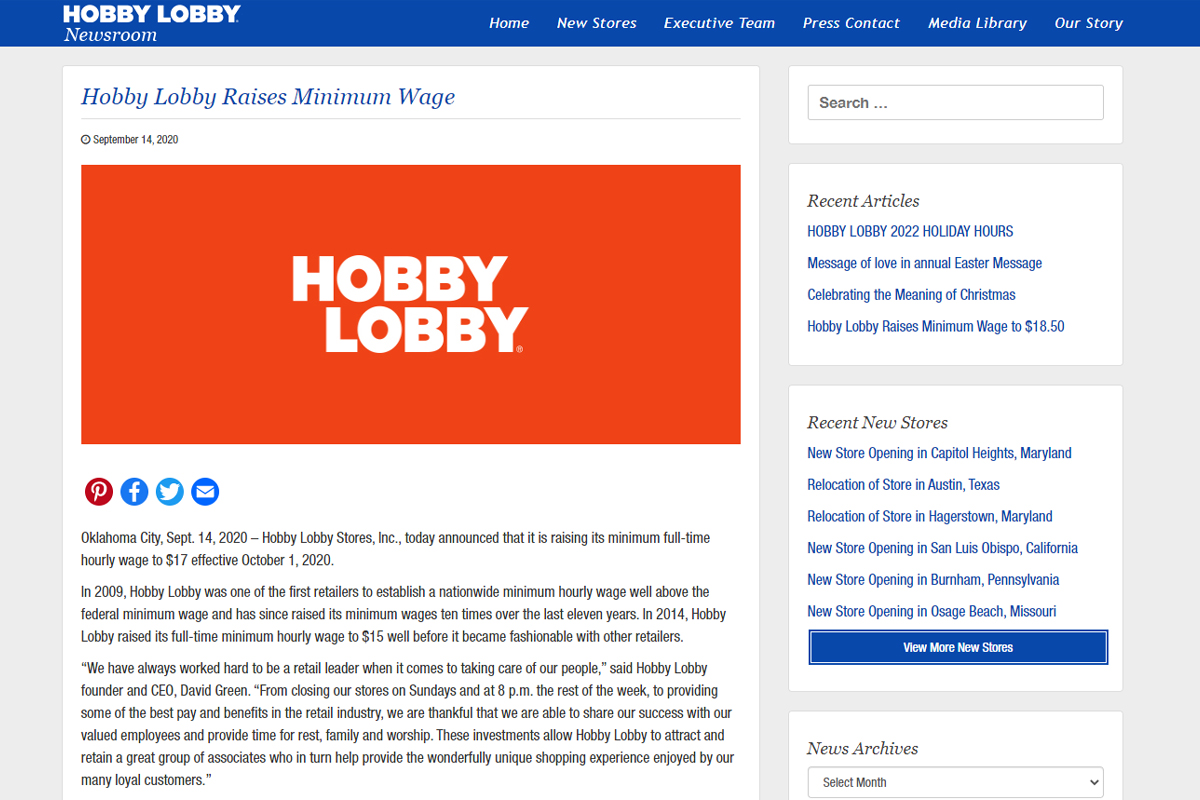 The minimum wage is a point of contention and an ongoing debate. By raising their minimum wage to slightly above what many people are pushing for as the new standard, they bring in some positive press to counteract their more negative impressions.
Tesla is a controversial company, with some advocates claiming they're the industry's future and critics pointing out many ways in which they either fail to live up to their promises or regress. This press release is part of their damage control, reputation management, and disaster recovery planning.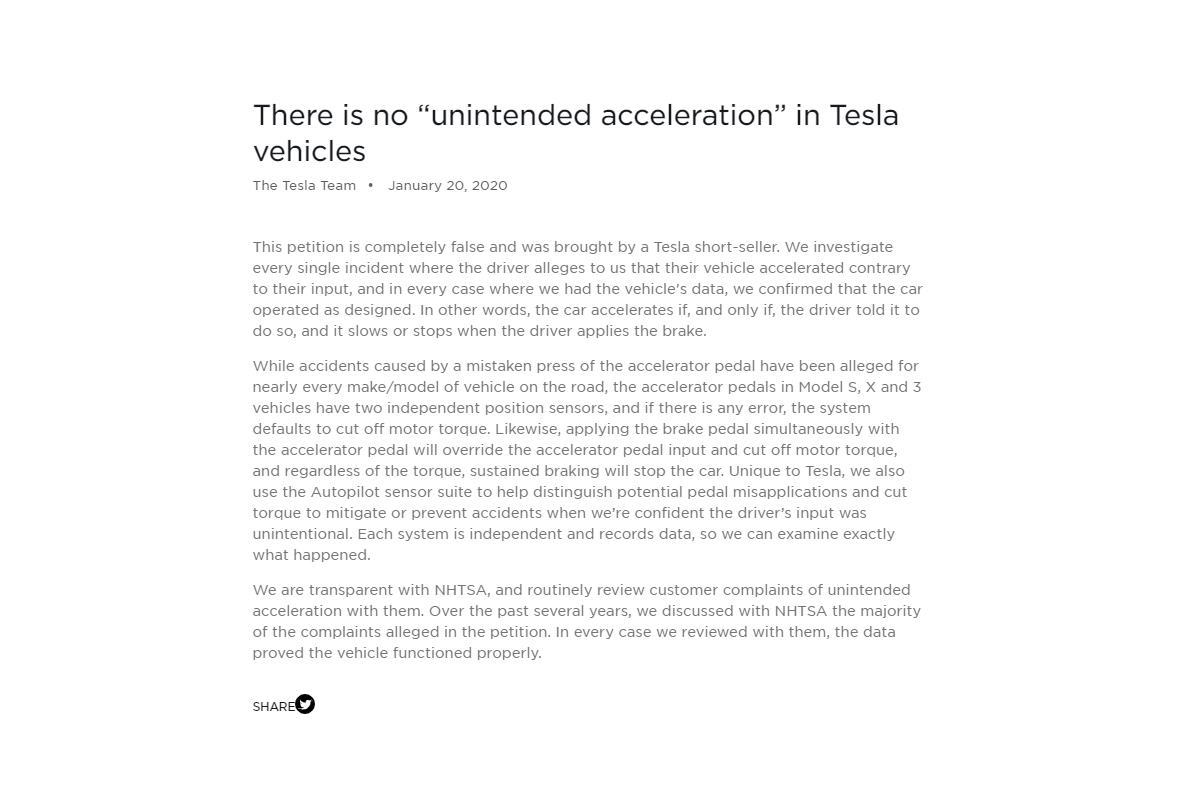 In short, it presents the company's take on events, and it's up to journalists to interpret (and the legal system, eventually) to find the truth.  
GOJO and Lubrizol partnered to donate massive amounts of hand sanitizer to hospitals in their area at the start of the Covid pandemic when everyone was still worried about surface transmission, and they hadn't quite recognized that it was airborne.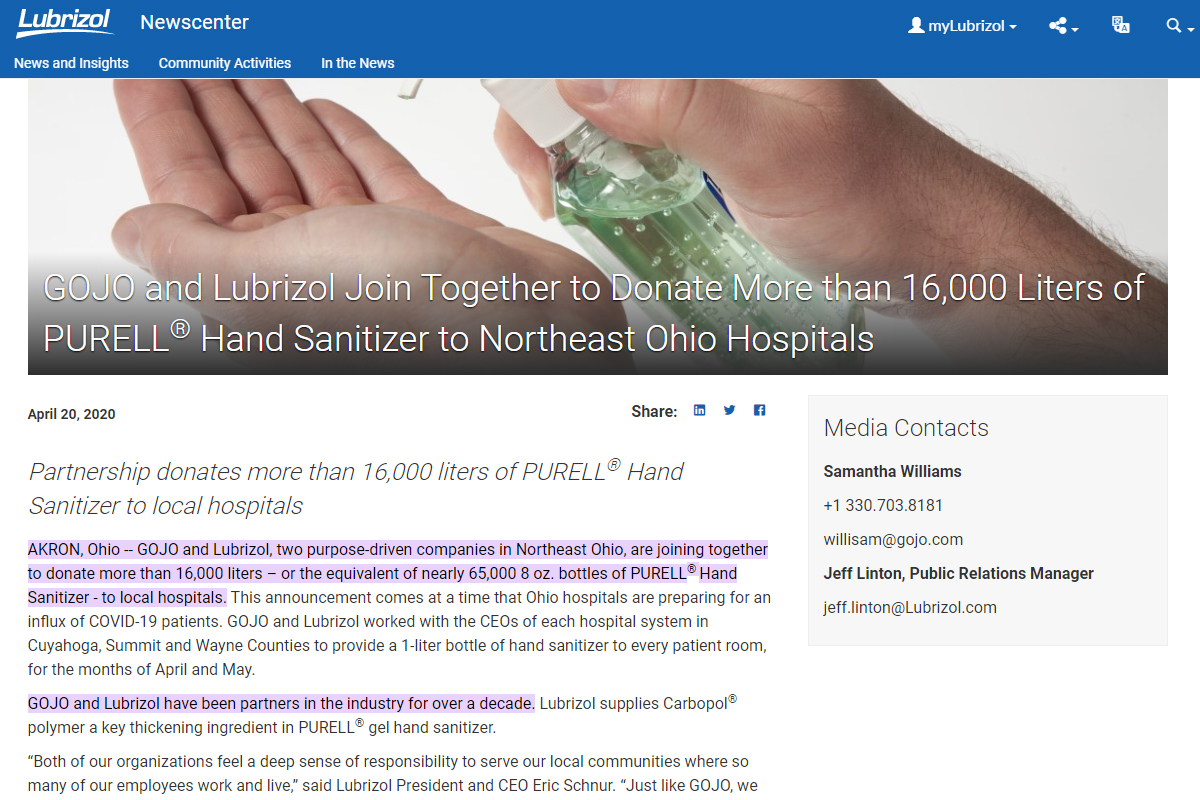 This press release is an excellent example of answering the Five Ws immediately; they immediately present Who is doing What, When, Where, and even Why. It's short, simple, does what it needs to do, and doesn't waste anyone's time, which is what you want from a good press release.
This press release is typical of some of Nike's more innovative coverage. The product itself isn't particularly fascinating on its own – it's just a shirt – but the engineering behind it goes deep into making it a more compelling and potentially useful product.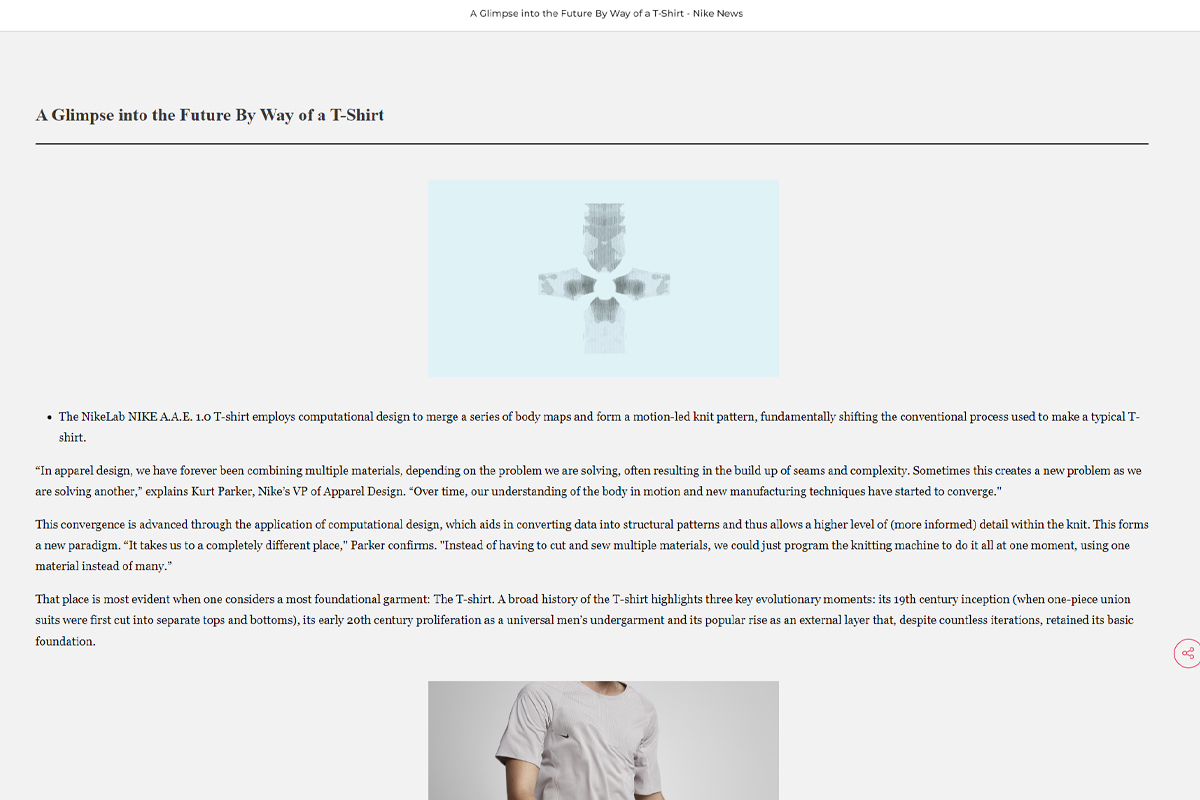 The press release strives to convince its readers of precisely that by discussing the origins of t-shirts, how they are traditionally designed and manufactured, and how Nike is changing up the formula with the science and research they've done to develop new techniques.
This example is an exciting press release. On the one hand, it's from a significant brand showcasing their latest (at the time) vehicle to roll off the assembly line. On the other hand, it's a whopping three sentences long, and everything else is contained in a video. This format can be great if the media outlet wants to share the video, watch it, take screencaps, and produce content that way.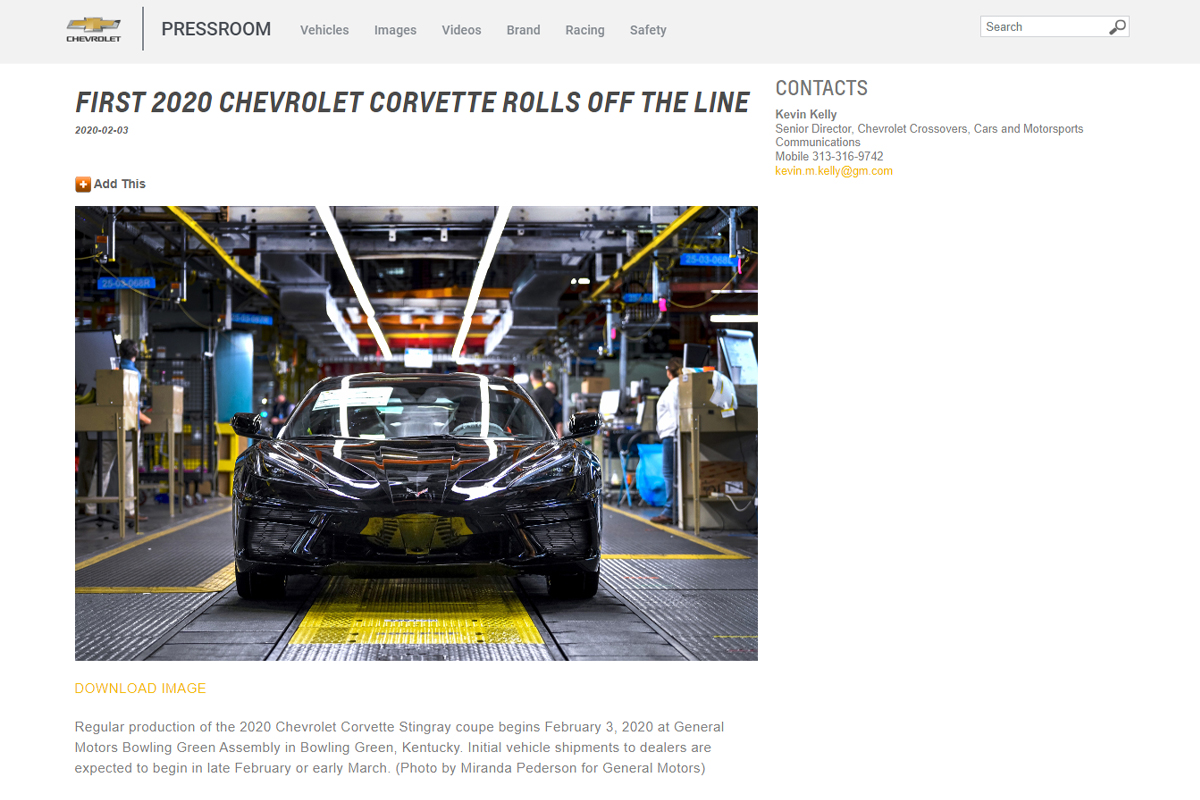 On the other hand, many journalists wish to spend less time sharing a release, and a video is less scannable than text. You can expect only a more prominent brand like Chevrolet to be able to pull this kind of release off effectively.
This example is another product announcement press release, except in the form of a partnership, because the brand producing the product already exists and already has cultural clout and customer interest. The press release starts strong, answering the Ws and providing journalists with plenty of information and quotes.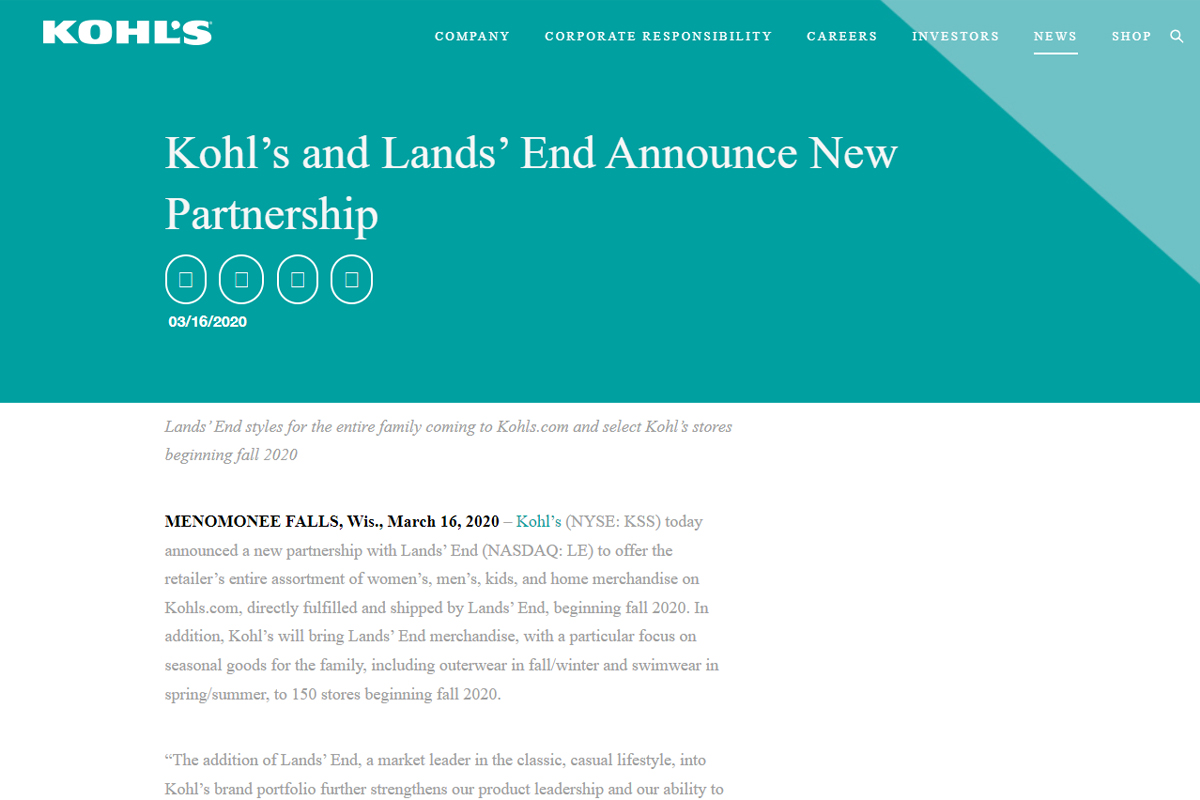 The downside is that the end stretches off a bit longer than most and has two large paragraphs of legal disclaimers that most reporters won't care to read. They may or may not need to be there – Kohl's could have rewritten their release to avoid the need.
Gig work and the freelance economy are nothing new, but it has been at the forefront of many discussions since the pandemic's start due to how exploitative it tends to be.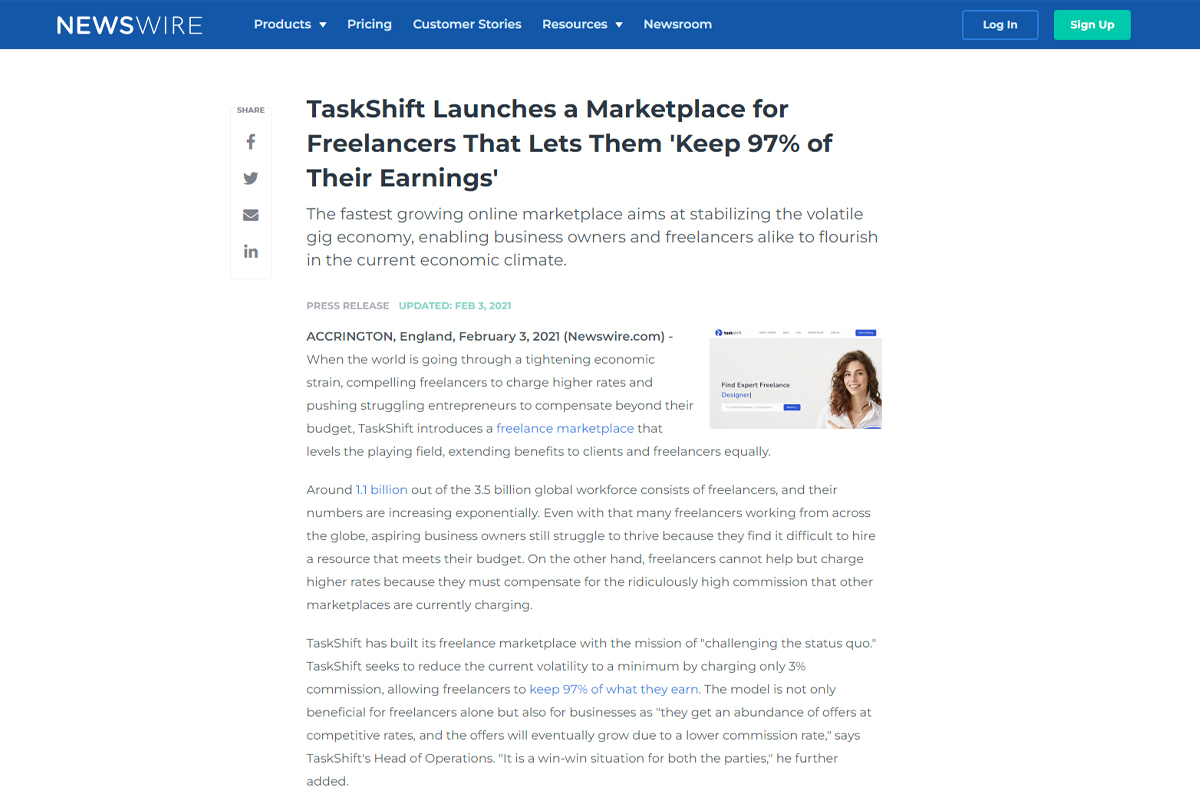 TaskShift produced this release to announce a new product – their marketplace – with one primary selling point: allowing freelancers to keep much more of their earnings. This release is excellent because it contains many essential details, all of which reporters can use for compelling coverage.
This example isn't a single press release example. Instead, it's the entirety of the Spotify Newsroom. This page combines a blog/news site and press release hub for everything Spotify covers in terms of music, which is just about everything.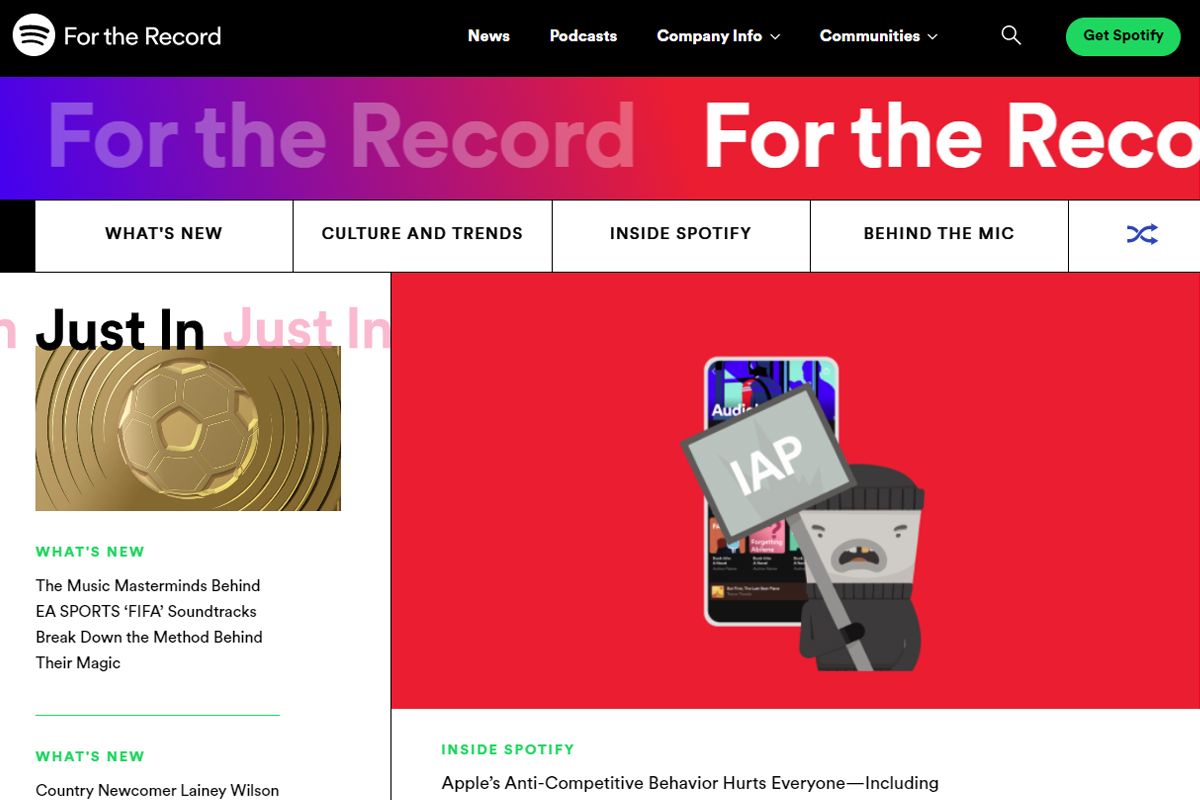 You can browse through and see various coverage styles, topics, and presentations, but they all have the same things in common. They answer the Ws, present compelling information, and get right to the point.
20: Many More
These examples are only scratching the surface of press releases. If you want to see more examples of how companies large and small write their releases, there are other huge lists available, like this one and this one.
On the other hand, maybe you've seen these press releases and thought, "wow, I don't know if I can handle making one this good." If that's the case – or if you want to skip right to the part where an expert handles it – you can contact us. Our press release services include writing and distribution across all the top names in the news. Most digital magazines and major news sites have strict guidelines for press releases, and failing to adhere to those guidelines will cause your press release to be rejected or ignored. A properly written press release is critical for maximizing the distribution that your press release is capable of.
So, whether you want professionals to review your press release and offer tips, top-tier distribution, or someone to write your press release and distribute it all for you, we're your choice. Just click the link above and get started today!