EXCLUSIVE: CYBR MAGAZINE RELEASES WORLD'S FIRST MAGAZINE SOLD AS AN NFT FEATURING LEADING CRYPTO ARTISTS AND GAMING STARS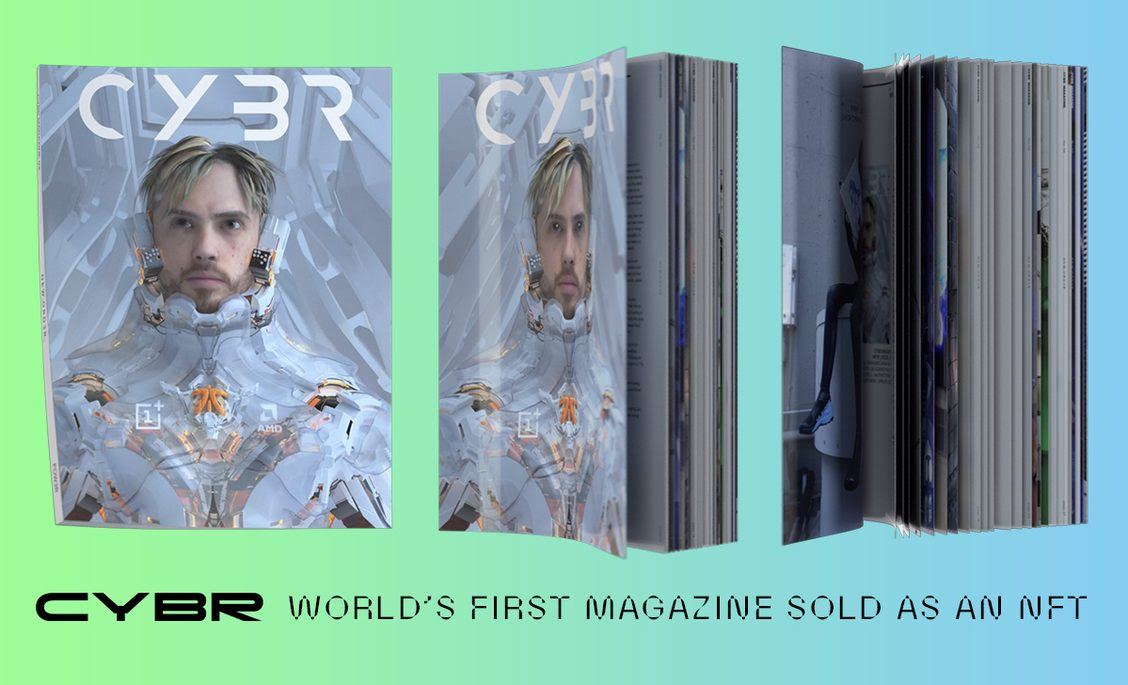 High-Res Images
CYBR becomes the world's first magazine to release a limited selection of their issues as NFTs *Non Fungible Tokens. Each issue has been painstakingly modelled in 3D and contains multiple Augmented Reality pages that animate in 3D when scanned with a smartphone. These include holograms, 3D animated adverts and even try-on digital fashion. The NFT magazine will be a way of accessing this content.CYBR will showcase some of their most popular issues with covers featuring
eSports player Pow3r
,
TikTok rapper FN Meka
, and more.
"NFTs are going to revolutionise how we buy and access art, music, fashion and goods. We're in a cultural renaissance that's gearing up for Augmented Reality's mass adoption in a few years, and CYBR intends to be front and centre of this movement. While other publications have attempted selling covers as NFTs, at CYBR Magazine, we're all about pushing the boundaries, so we are taking this to the next level by producing a full 100+ page magazine. NFTs are the next natural progression and the start of our move into the more expansive AR creative space.
With the introduction of blockchain technology, magazine subscriptions just got a lot more interesting, so we wanted to include this element in our NFT offering. Selling subscriptions on the blockchain gives us authenticated proof of subscribers and helps collectors and readers show their first involvement and support of the magazine. It's an everlasting way to show you were there at issue 01."
Comments Founder/ Editor CYBR Magazine, James Joseph


Selling exclusively on
NFT platform Rarible
, there are only ten copies of each magazine, selling for just 0.06ETH ($150) each.
Every buyer of the NFT will also receive an exclusive three-year subscription to the magazine (worth $250
), with CYBR focusing on their community and followers for the launch. Honouring the talent involved, a percentage of each issue sales goes to any commissioned cover artists.
For quotes, Interview requests and further information, please contact:
Laura McCluskey -
[email protected]
www.mccluskeypr.com
@mccluskeypr
Editor Notes:
CYBR MAGAZINECYBR MAGAZINE
was founded by James Joseph in 2018. The CYBR collective was born out of a passion for all things in the technology sphere, focusing on futurism and tech culture, whether that's NFT art, space exploration, 3D printing, or even fusion energy.To support diversity and cultural variety, issues include interviews with billionaire innovators like Kimbal Musk (yes... Elon's brother), Dr Sankai of Cyberdyne Robotics, and Facebook's VR team. Plus, conversations and features with cultural tech creatives like Grimes, Krista Kim, RTFKT, and Thomas Webb.
FOLLOW:
CYBR Website
@cybrmagazine
CYBR Rarible
 |