If you ever want to make your job as a PR professional easier, you need the right PR tools and software.
Without these tools and software, you'll find that you'd be spending way more time writing/editing press releases, hunting down email addresses of journalists, and tracking the performance of your PR campaign.
You could also be losing out on earned media opportunities.
To help you, we've curated a list of the best PR tools and software you need.
We based this list on the activities of a public relations professional. So whether you're looking for a tool to help with writing, tracking brand mentions, nurturing media relations, or performing PR outreach, you'll find it here. Let's begin.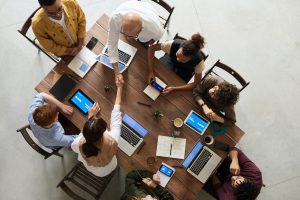 Media Monitoring Tools and Software
PR Outreach Tools and Software
PR Tools for Audience Research
Answer the Public
In general, PR professionals and marketers find AnswerThePublic to be an essential tool in discovering what an audience is asking questions about. The amount of content ideas you can generate from AnswerThePublic is enormous, and you can use these content ideas to guide the direction of your PR campaigns.
SparkToro
Created by Rand Fishkin (Formerly at Moz), Sparktoro is an audience research tool that helps PR professionals understand their audience. With Sparktoro, you can quickly identify what kind of content your audience loves based on the blogs they visit, podcasts they listen to, and the social media accounts they follow. The insights SparkToro offers would help you create an effective PR strategy.
PR Writing & Editing Tools
Grammarly
Grammarly is one of any marketer's favorite tools. Although PR pros cannot use Grammarly to perform outreach, monitor brand mentions, or understand their audience, the tool is still useful in making sure that press releases are free from writing errors. Nobody wants to read an outreach message or press release full of writing mistakes. Grammarly can also help you set your message's tone and check for plagiarism besides correcting writing errors. Another cool thing about Grammarly is that you can integrate it with your browser, which allows it to work anywhere you're writing online.
Hemingway App
Hemingway App is another writing tool for PR professionals who want to pass a message across clearly. The tool helps you dial down on excessive use of passive voice, adjectives, and hard-to-read sentences. Hemingway App also identifies your message's reading level, suggesting how to make it even simpler.
CoSchedule Headline Analyzer
Most people skip past articles that have poor headlines. CoSchedule's Headline Analyzer helps marketers craft headlines that instantly gain attention. If you want people to click on your press release, then you need to test how strong your headline is with this tool.
Email Tools for PR Pros
Hunter
Finding a journalist's or blogger's correct email address can be tiring. But with Hunter, you can easily find these email addresses and send your outreach messages in no time. Hunter helps you find the correct email addresses and enables you to track the open rates for the emails you send.
MailTrack
MailTrack is a simple tool for Gmail that tracks the open rates of your emails. The tool is excellent for you if you have only a handful of people to reach. And if you don't want the robustness that comes with other email management tools. With MailTrack's tracking in place, you can tell when to follow up on emails and test different email subject lines to get the one with the best open rates.

Conclusion
There you have it — 24 tools and software to help you improve your public relations efforts.
While it can be tempting to want to use all these tools at once, it's important to note that these PR tools and software only work when you have a strong PR strategy in place.